Camp Detrick and Joshua Lederberg
Bio Safety Level 4 (BL-4) isolation suite at Camp Detrick
Subject of Biological Warfare is isolated in an enclosed negative-pressure gurney
Gurney ready to be moved through transport-port to isolation suite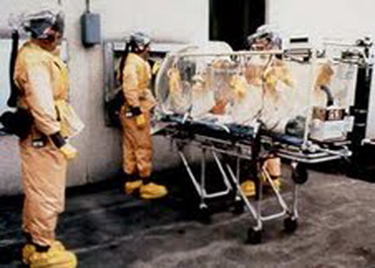 Such an enclosed negative-pressure gurney and isolation suite was also used by "Jeremy Stone" in the Michael Crichton novel and film, "The Andromeda Strain", whose purpose was to popularize "exobiology".
Joshua Lederberg studied bacteria and viruses from the viewpoint of transduction. Thus genes that convey virulence could be made more virulent or transferred to bacteria that did not normally act as disease vectors.
A subcommittee of the American Society of Microbiology was established at the beginning of World War II, but extended well beyond World War II. The purpose of this subcommittee was to review issues related to biological warfare. Of course, this is very legitimate. However, perhaps an unstated function was also the examination of research that might pertain to biological warfare: thus, censorship.
The following documents establish connections between Joshua Lederberg and Camp Detrick Biological Warfare research.
.

.

.

.

.

.

.
Some Other Known U.S. Biological Warfare Facilities
Horn Island, Mississippi (test site)
Dugway Proving Ground (DPG), Utah
Pine Bluff Arsenal (PBA), Arkansas (manufacturing)
Terre Haute, Indiana (manufacturing)
Edgewood Arsenal, Maryland
Plum Island, New York
Rocky Mountain Arsenal, Colorado